There are so many things that that crosses your mind when you're pregnant. From asking yourself if you're ready to be a mom to whether or not you'll be able to handle childbirth. Pregnancy will definitely make you feel all kinds of emotions and will make you questions a lot of things. One thing is for sure, the more prepared you are for your baby, the less stressed you'll be.
With both of my pregnancies, I have learned that in order to ease my worries, I had to be a step ahead of the game. There are a few baby items that you will not need the first couple of months of your baby's life. But, there are also baby items that are super important the minute that your baby is born.
I'll be sharing with you the 10 baby items that you need before your baby arrives. Purchase these items before hand, this way you will be prepared for the birth of your baby. Try to install some of these items and stock up on them too. You will never be fully ready to welcome your baby, but these 10 items will sure help you be prepared.
10 baby items you need before baby arrives
This post may contain my affiliated links, thank you for your support!
Baby mittens and socks
Baby mittens and socks are a must have baby item. Do not spend money on buying your newborn shoes because it will not be worth it. Instead, stock up on cute socks because your baby will use it on a daily basis.
Baby mittens are a great item to have because babies tend to scratch themselves a lot. Their fingernails grow really fast and having mittens will do the trick of preventing them from getting hurt and having scratches all over their face.
Playtex Baby™ Nurser with Drop-Ins® Liners
I love Playtex baby nurser with Drop–Ins liners and definitely recommend it to all my pregnant friends. I used it with my first born and loved the fact that all Playtex bottles are BPA free. These bottles are great because it feels closer to breastfeeding, it has been clinically proven! It stimulates same suck, swallow and breathe patterns as breastfeeding. It also has been clinically proven to allow for a more natural feeding rhythm and promotes easy switching between breast and bottle feeding. Score!
I love that these bottles have easy to dispose liners for your convenience! All you have to do is match the liner size (4oz or 8 oz) to the size of your bottle and place liner in nurser bottle and fill it with formula or breastmilk. My first born loved these bottles, she would feed so easily and that would always make me feel so happy. A good reason for her easy feedings were the fact that the liners gently collapses like the breast as my baby would drink, preventing air from getting into milk and mixing with my baby's tummy.
Baby bottles are an important baby item to have and stock up on. Whether your planning to breastfeed or not because you just never know. What better bottle than one that helps your baby latch on naturally? This awesome and super helpful Playtex baby nurser bottle comes with Mom® NaturaLatch® Nipple which has a natural wide shape and a raised texture to help your baby latch on naturally.
You can now save 25% on Playtex Baby Bottle gift sets (Nurser or VentAir) perfect for a baby shower gift, just download Target's Cartwheel app! ( 7/15- 7/28)
Onesies
As much as I love cute baby outfits, the truth is I didn't  use them as much as I used the baby onesies. They are so convenient, you can buy them in packs and it will make your newborn feel very comfortable. 
Crib/ bassinet/ pack-n-play
You need to purchase at least one of these items before your baby arrives. With my first born I was given a bassinet as a baby shower gift and loved it so much. I used the bassinet for about a month before I even set up her crib which was great since she was sleeping with us in the same room. For my twins I set up their crib and didn't have a bassinet (two bassinets, too expensive) so it really is up to you.
A pack–n–play is a baby item that I had for all three of my children. I had it set up in the living room and it worked great for their naps. A pack-n-play is so versatile, your baby can play in it, sleep and you can even change his/her diapers too. Great buy!
Stroller and carseat
You need a carseat for sure if you ever want to leave the hospital with your baby. So, this one is a must have item. It doesn't hurt either that you have your baby's stroller set up in the process. You can purchase the travel system, which is the stroller and carseat together instead of purchasing it separately.
Have your partner set up the car seat and stroller, make sure you install it in your car, just to make sure you know how to do it correctly. Once your ready to head to the hospital, you'll know that your baby's carseat is ready to go!
Bouncer
I personally loved having a baby bouncer with all three of my children. It was a life saver for me. I would lay them down on it, and take them with me wherever I would go in the house. If I was cooking, they would be sitting down on the floor bouncing away, if I was taking a shower, they would be right there with me. It was great!
Burp cloths/ bibs
Burp cloths and bibs are super important when you're feeding your baby. It helps keep you and your baby clean and that's always a good thing. Both burp cloths and bibs comes in packs and are super affordable. Stock up!
Diapers and wipes
I stocked up on baby diapers and wipes when I was pregnant and it was well worth it. Diapers will go fast because newborn babies pee and poop a lot, So it's a smart choice to stock up on them now then later.
Diaper cream
A diaper cream is a great item to have before your baby arrives. Babies tend to get diaper rashes and so you need relief it by applying diaper cream on the effected area.
Boppy pillow
I loved my poppy nursing pillow so much, that I am recommending it to you. You need this in your life because it will make feedings, whether is bottle or breastfeeding so much easier. You can also, lay your baby on it and bond and when your baby is a little older, you can sit them on it as well.
A Boppy pillow is a great baby item to have before baby arrives.
Quick recap:
There are so many things to think about when you're pregnant that I want to ease your thoughts. Having a few baby items already bought and installed before your baby arrives will be a life saver for you and your spouse.
Remember to stock up on baby diapers and wipes and to make feedings less messy purchase burp cloths and bibs. Talking about feedings, I truly recommend Playtex Baby Nurser with drop–Ins bottles which I bought in Target, right at the baby feeding isle.
Remember you can now save 25% on Playtex Baby Bottle Gift Sets, so take advantage of this great offer!
Be prepared by making sure that you have your baby's carseat installed in your car (if your due date is approaching) and make sure you have set up your baby's crib or bassinet and it's ready to use. These 10 baby items will make your pregnancy and approaching due date more exciting and stress free!
Hey! don't forget to purchase your own Playtex Baby Nurser with Drop-Ins liners, just click on the picture below: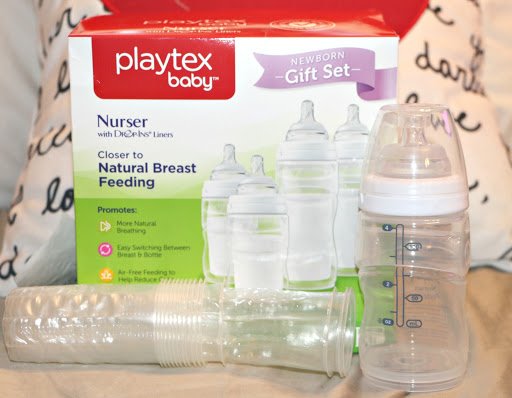 *Spanish*
Hay tantas cosas que te pasan por la cabeza cuando estás embarazada. De preguntarse si estás lista para ser mamá o si usted será capaz de soportar el parto. El embarazo sin duda le hará sentir todo tipo de emociones y le hará preguntarse un montón de cosas. Una cosa es segura, cuanto más preparada estés para su bebé, menos estresada estarás.
Con mis dos embarazos, he aprendido que para aliviar mis preocupaciones, tuve que estar un paso por delante del juego. Hay algunos artículos del bebé que usted no necesitará los primeros pares de meses de la vida de su bebé. Pero, también hay artículos para bebés que son muy importantes en el momento en que su bebé nace.
Estaré compartiendo con usted los 10 artículos de bebé que usted necesita antes de que su bebé llegue. Compre estos artículos antes de mano, de esta manera usted estará preparada para el nacimiento de su bebé. Trate de instalar algunos de estos elementos y abastecerse de ellos también. Nunca estarás completamente lista para dar la bienvenida a tu bebé, pero estos 10 artículos te ayudarán a estar preparada.
10 artículos de bebé que necesita antes de que llegue el bebé
Guantes y medias para bebés
Los guantes y las medias del bebé son un articulo que debes tener para tu bebé. No gaste dinero en comprar zapatos recién nacidos porque no valdrá la pena. En su lugar, abastecerse de calcetines lindos porque su bebé lo usará a diario.
Los guantes del bebé son un gran artículo a tener porque los bebés tienden a rasguñarse mucho. Sus uñas crecen muy rápido y con mitones hará el truco de evitar que se lastimen y tener rasguños por toda la cara.
Playtex Baby™ Nurser with Drop-Ins® Liners
Me encanta Playtex Baby Nurser con Drop-Ins liners y definitivamente lo recomiendo a todas mis amigas embarazadas. Lo usé con mi primera hija y me encantó el hecho de que todas las botellas de Playtex son libres de BPA. Estas botellas son grandes porque se siente más cerca de la lactancia materna, que ha sido clínicamente probado! Estimula la misma succión, tragar y respirar patrones como la lactancia materna. También se ha demostrado clínicamente que permite un ritmo de alimentación más natural y promueve el cambio fácil entre el pecho y la alimentación con biberón.
Me encanta que estas botellas tienen fácil de disponer liners para su conveniencia! Todo lo que usted tiene que hacer es emparejar el tamaño del liner (4oz o 8 onzas) al tamaño de su botella y coloque el liner en embotellador del Nurser y llene con la fórmula o la leche materna. Mi primera hija amaba estas botellas, ella se alimentaba tan fácilmente y eso siempre me hacia sentir tan feliz. Una buena razón para sus comidas fáciles es que el forro se desploma suavemente como el pecho mientras mi bebé bebía su leche, evitando que el aire entre en la leche se mezcle con el estómago de mi bebé.
Las botellas de bebé son un artículo importante del bebé a tener y almacenar. Aun si  planeas amamantar o no porque usted nunca sabe. ¿Qué mejor botella que una que ayuda a su bebé beber naturalmente? Esta impresionante y super útil botella para bebés de Playtex viene con el mamón NaturaLatch® de mamá, que tiene una forma ancha natural y una textura elevada para ayudar a su bebé a engancharse naturalmente.
Oniesies
Tanto como amo las lindas ropa del bebé, la verdad es que no los uso tanto como utilizé los onesies del bebé. Son tan convenientes, usted puede comprarlos en paquetes y hará que su recién nacido se sienta muy cómodo.
Cuna / moises / pack-n-play
Debe comprar al menos uno de estos artículos antes de que llegue su bebé. Con mi primogénita me dieron un moisés como un regalo para bebés y me encantó tanto. Utilicé el moisés durante un mes antes de  incluso configurar su cuna, que era genial ya que estaba durmiendo con nosotros en la misma habitación. Para mis mellizos  configurar su cuna y no tienen un moisés (dos cestas, demasiado caro) por lo que realmente depende de usted.
Un pack-n-play es un artículo del bebé que tenía para los tres de mis niños. Lo tenía instalado en la sala de estar y funcionó muy bien para sus siestas. Un pack-n-play es tan versátil, su bebé puede jugar en él, dormir e incluso puede cambiar sus pañales también . ¡Gran compra!
Cochecito y carseat
Usted necesita un asiento para asegurarse de que si alguna vez quiere salir del hospital con su bebé. Por lo tanto, este es un elemento debe tener. No hace daño tampoco que usted tenga el coche de bebé establecido en el proceso. Usted puede comprar el sistema de viajes, que es el cochecito y coche juntos en lugar de comprarlo por separado.
Pídale a su pareja que configure el asiento para el automóvil y el cochecito, asegúrese de instalarlo en su automóvil, sólo para asegurarse de que sabe cómo hacerlo. Una vez que esté listo para dirigirse al hospital, sabrá que el asiento de su bebé está listo para usar.
Bouncer
Personalmente me encantó tener un bouncer de bebé con los tres de mis hijos. Fue un salva de vida para mí. Yo los echaba sobre ellos, y los llevaba conmigo a donde yo fuera. Si estaba cocinando, estarían sentados en el suelo rebotando, si me diera una ducha, estarían allí conmigo. ¡Fue grandioso!
Paños / baberos
Los paños y los baberos  son súper importantes cuando usted está alimentando a su bebé. Ayuda a mantener a usted ya su bebé limpios y eso siempre es una buena cosa. Ambos paños burp y baberos viene en paquetes y son muy asequibles. ¡Surtir!
Pañales y toallitas
Me abastecí en pañales de bebé y toallitas cuando estaba embarazada y valió la pena. Los pañales se irán  rápido porque los bebés recién nacidos hacen pis y caca mucho, es genial cuando tienes pañales y toallitas a mano.
Crema para el pañal
Una crema de pañales es un gran artículo que debes tener antes de que su bebé llegue. Los bebés tienden a tener sarpullido del pañal y por lo que necesita alivio mediante la aplicación de crema de pañales en el área afectada. 
Almohada Boppy
Me encantó mi almohada boppy, que estoy recomendando a usted. Usted necesita esto en su vida porque hará las comidas, si es la botella o la lactancia materna mucho más fácil. También puedes, poner a su bebé en él y cuando el bebé este un poco mayor, se puede sentar en él también.
Una almohada de Boppy es un gran artículo del bebé que debes tener antes de que llegue el bebé.
Recapitulación rápida:
Hay tantas cosas en que pensar cuando estás embarazada que quiero aliviar tus pensamientos. Tener algunos artículos para bebés ya comprados e instalados antes de que su bebé llegue será un salva de vida para usted y su cónyuge.
Recuerde abastecerse de pañales y toallitas para bebés y hacer las comidas menos desordenadas comprar telas y baberos. Hablando de comidas, realmente recomiendo Playtex Baby Nurser con botellas de Drop-Ins que compré en Target, justo en la isla de alimentación del bebé.
Prepárese para asegurarse de que tiene instalado el asiento de seguridad de su bebé en su automóvil (si su fecha de parto se acerca) y si tiene la cuna o el moisés de su bebé listos para usar. Estos 10 artículos para bebés harán que su embarazo y la próxima fecha de parto sean más emocionantes y sin estrés!
¡Oye! No se olvide de comprar su propio Playtex Baby Nurser con camisas de solapa, simplemente haga clic en la imagen de abajo: