Aren't diaper cakes super cute? I received one as a gift from my friend after the birth of my first born(8 years ago!) and loved it immediately. I've always wanted to make my own but I thought it was too difficult  to make (I'm not crafty at all!) I have good news, it's not difficult at all my friend! Since my hubby's friend is a new dad to a baby boy, I figured I'll give it a try and gift this super easy and precious diaper cake to his wife. With Scotch® Expressions Glitter Tape Platinum and Scotch® Create Double Sided Tape I was able to make this fun and adorable diaper cake come to life.
I went to Walmart with my hubby the other day after dropping off our kids in school and I took advantaged of our mini shopping trip, to purchase these super fun, versatile and functioning Scotch® Expressions Glitter Tapes. I purchased the platinum and their blurred lines washi tape, they honestly turn everyday projects into simply inspired creations. You can find these items in the paper craft isle in Walmart.
Now, since I know you're feeling crafty, let's be hands-on with Scotch™ Brand and let's make this super easy and adorable diaper cake. Let the Scotch™ Brand inspire you to create projects you are super proud of. Do you know why I love diaper cakes? Because they are perfect as a baby shower or birthday gift. Also, if you're visiting the new mom in your life, why not surprise her with her very own diaper cake? I know she'll love it! Specially since you made it yourself!
Hover over the photo below to shop these great Scotch™ Brand products and let's start crafting!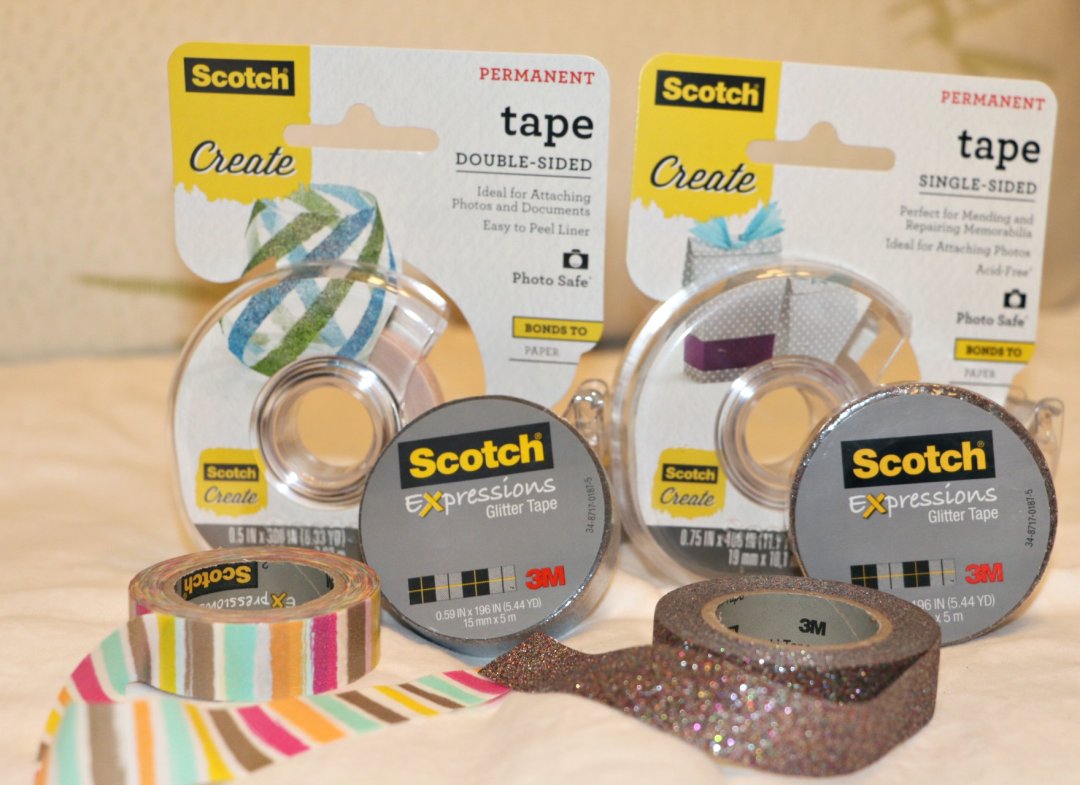 Quick holiday tip:
Since Christmas is around the corner, this will totally be an awesome present to give to the pregnant mama in your life or as a "baby's first Christmas" present! You can easily add a few red and green Christmas ornaments on the top of the diaper cake. Decorating it with Scotch® Expressions Glitter in red and having candy canes hanging around the cake would add that special Christmas touch. I can just see it!
You can definitely create this diaper cake and make it your own, it's going to be amazing, worth sharing, useful and beautiful, I promise!

Materials:
Baby diapers

1 Paper towel roll

Scotch® Expressions Glitter Tape Platinum 

Scotch® Create Double Sided Tape

Ribbons

Baby items of your choice
Instructions:
Step 1: Roll each diaper and secure it by placing Scotch® Create Double Sided Tape  around the middle of the rolled diaper.
Step 2: Place a paper towel roll in the middle of a base or just simply place it on the table (like I did) and start placing the rolled diapers around the paper towel roll. Make sure to fit it nice and tight.
Step 3: Place a ribbon around the diapers and tie it, to make sure the diapers do not fall out of place. 
Step 4: Add 2 more layers (total of 3 layers) of rolled diapers and again secure it and tie it with a ribbon. You will see that you will need more diapers as the layers increases.
Step 5. Using Scotch® Expressions Glitter Tape Platinum, you want to place it on top of the ribbon you tied your diapers with. Place a piece of Scotch® Create One Sided Tape to the ends of the glitter tape, to make sure it doesn't come off. Doesn't it look amazing already? 
Step 6: Now, to your second tier, this time you will make two layers of rolled diapers. Follow the same steps from above. Easy Peasy! 
Step 7: With the second tier, I used the Scotch® Expressions Washi Tape Blurred Lines, to add a fun and different element to the diaper cake. I love the different varieties  of Scotch® Tapes you can use. And, you know what? If you're armed with Scotch™ Brand, you definitely  got this.
Step 8: The third tier, you will only need to make one  layer of rolled diapers. Again, tie it with a ribbon and then place the Scotch® Expressions Glitter Tape Platinum on top of it. Secure it with a piece of Scotch® Create One Sided Tape.
Step 9: Now it's time to decorate your diaper cake! I simply added a few baby items like a comb, rattle, and baby bibs. I also, added a few feathers and colorful ribbons that I purchased at a discount store. This is the time to release your creative side and decorate it how ever you want.
Step 10: Be proud of your own diaper cake, You did it!
I was super proud when I finished making this diaper cake because I honestly thought I couldn't do it. What I love is that this diaper cake was affordable to make and the Scotch® Brand made that possible. The  Scotch® Brand  products are price conscious which is great because aren't we always looking for ways to save money? I also, made sure to buy a few items from a discount store and looked around my house to see what other craft items I could use.
You do not need to  make this an expensive or difficult project to do. Simple and affordable is best. Remember to count on Scotch™ Brand because it has all of the best sticky tools you need to be hands-on. 
I hope you enjoyed this quick and easy tutorial on how to make your own diaper cake. Surprise the momma to be in your life or better yet, gift this to yourself if you're expecting!